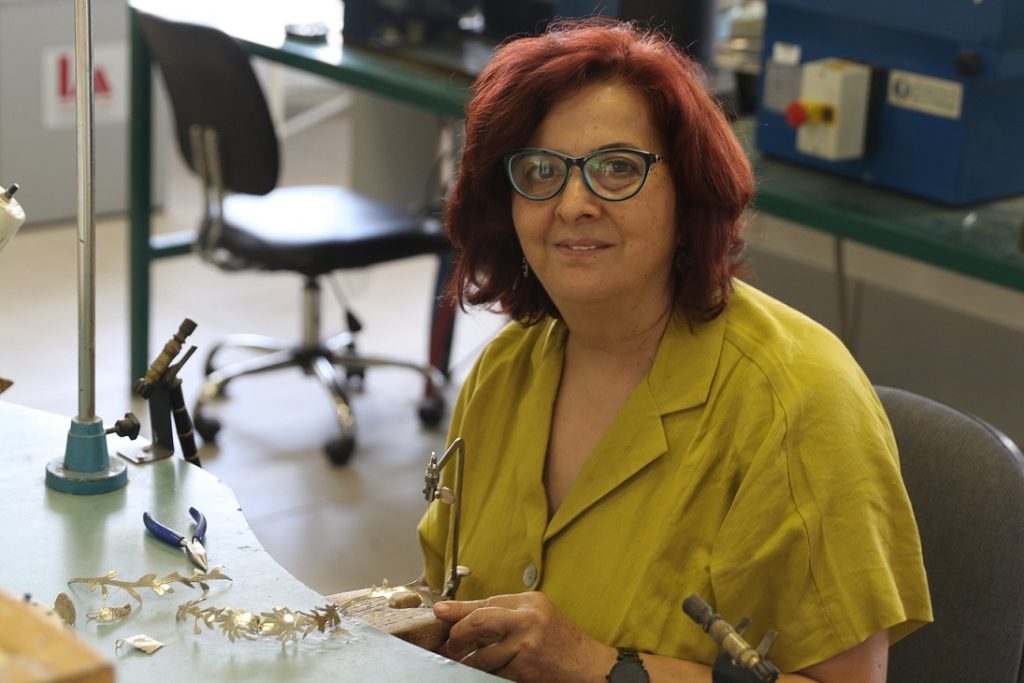 Abeer Nassar, based in Beit Jala, works as an independent silversmith in her small workshop. Since her childhood, she has loved art, painting and handicrafts such as embroidery. She began her artistic career by joining the International Center of Bethlehem – Dar Annadwa by participating in a textile training course.
After participating in that course, Abeer enrolled in the Ceramic and Art Associate Diploma program launched by Dar Al-Kalima College. She decided to carry on with her higher education while her children were studying in other local universities.
Despite her proficiency, Abeer had great difficulty finding convenient job opportunities in her field after graduation. She adds: "Most handicraft artists suffer from high unemployment in the Palestinian society, as there are no artistic spaces capable of accommodating and employing graduates from similar programs. As a result, most artisans work independently by establishing their businesses and taking responsibility for selling their products individually".
Abeer benefited from several development programs implemented by Dar Al-Kalima University, which seek to create job opportunities for its graduates and integrate them into the local labour market.
On the other hand, Abeer noted that she enjoys more opportunities as a professional female artist since many institutes and organizations support vocational projects, such as business incubators for small-sized enterprises. Through these programs, Abeer and a group of colleagues established a handicraft factory that specializes in silversmithing. The program supported the factory by providing the required equipment and materials.
The factory operated for four years before they had to close it when the external funding had stopped, and the factory was unable to cover running costs. Abeer believes that one of the main reasons the factory could not continue is the weakness of strategic planning and marketing.
Abeer continued to work individually in her small home workshop and obtained a set of essential equipment for the silversmithing craft. Abeer relies on local silver factories in Bethlehem and Hebron to get the raw materials. Moreover, Abeer found her passion in crafting glass, designing coloured glass mosaics and making ceramic products.
Abeer participated in many local bazaars, exhibitions and Christmas markets in Bethlehem and other West Bank cities.  
عبير نصار من مدينة بيت جالا، ربّة أسرة وأم لأبناء في المرحلة الجامعية. تعمل في صياغة الفضة بشكلٍ مستقل في مشغلٍ بيتي. منذ طفولتها وهي تعشق الفن والرّسم والأشغال اليدوية كالتّطريز، بدأت مسيرتها الفنية بانضمامها لدار النّدوة الدّولية عبر دورة النّسيج والتي وجدت فيها متعة كبيرة في نسج الصّوف الطّبيعي وتلوينه بألوان طبيعيّة لعمل قطع السّجاد والبِساط المنزلي.
بعد المشاركة في هذه الدورة، التحقت عبير بالدّفعة الأولى لبرنامج الدّبلوم المتوسط في الخزف والزجاج الذي أطلقته كلية دار الكلمة، لتعود إلى مقاعد الدّراسة الجامعية في نفس الوقت الذي كان أبناؤها يتعلمون في الجامعات المحلية. تؤكد عبير: "بالرّغم من كلّ التحديات، إلا أنني قضيت أجمل سنين حياتي برفقة زملاء الكلية ونحن نتنقل بين مشاغل الخزف والزجاج".
بالرّغم من مستوى الإتقان الذي تتمتع به عبير، إلا أنها واجهت صعوبة كبيرة في إيجاد فرص عمل في مجالها بعد التّخرج. وأضافت أنّ معظم الحرف اليدوية تعاني من نسبة بطالة عالية في المجتمع الفلسطيني، حيث لا يوجد مساحات فنية قادرة على استيعاب وتوظيف الخريجين من برامج مشابهة. بالتّالي، يضطر معظم الفنانون للعمل بشكل مستقل وتأسيس مشاغلهم وتحمّل مسؤولية بيع منتجاتهم بشكل فردي.
تؤكد عبير أنها استفادت من عدّة برامج تطويرية قامت بتنفيذها جامعة دار الكلمة لخلق فرص عمل لخريجيها ومحاولة دمجهم في سوق العمل المحلي.
من جهة أخرى، أشارت عبير إلى أنها كفنانة حرفيّة تتمتع بفرص أكبر حيثُ تقوم العديد من المؤسسات بتقديم برامج داعمة لأصحاب المهن التّطبيقية كحاضنات الأعمال للمنشآت والمشاريع التجارية متناهية الصغر، ومن خلال هذه البرامج قامت عبير وبالشّراكة مع مجموعة من الزّميلات بتأسيس مصنع للأشغال اليدوية والذي يختصّ بصياغة الفضة، قام البرنامج بدعم مشروعهن وتوفير المعدّات والمواد الأساسية اللازمة للمصنع.
استمر عمل المصنع لأربع سنوات قبل أن يضطروا لإغلاقه نتيجة توقّف التمويل الخارجي وعدم قدرة المصنع على تغطية التكاليف الجارية. ترجّح عبير أن واحد من أهم أسباب عدم قدرة المصنع في الاستمرار هو ضعف التّخطيط الاستراتيجي والتّسويق حيث كانت القدرة الإنتاجية أعلى من معدل الطلب.
استمرت عبير في العمل بشكل فردي في مشغلها المنزلي الصّغير، وتمكّنت من الحصول على مجموعة من المعدّات الأساسية اللازمة لحرفة صياغة الفضة. تعتمد عبير في الحصول على المواد الخام على مشاغل الفضّة المحلية في بيت لحم والخليل. كما وجدت عبير شغفها في الزجاج وتنفيذ أعمال الزّجاج الفسيفسائي الملوّن، بالإضافة لتصنيع منتجات الخزف والسيراميك.
شاركت عبير في العديد من البازارات والمعارض المحلية ومنها معرض بصمات الذي نظّمته جمعية السّيدات لرعاية الطّفل لدعم الحرفيين والحرفيّات في منطقة بيت لحم وأسواق عيد الميلاد التي تنظمها بلدية بيت لحم ومهرجان حياة بيت لحم الذي تنظّمه مؤسسة هولي لاند ترست.