Helva Hanouneh (هيلفا حنونة)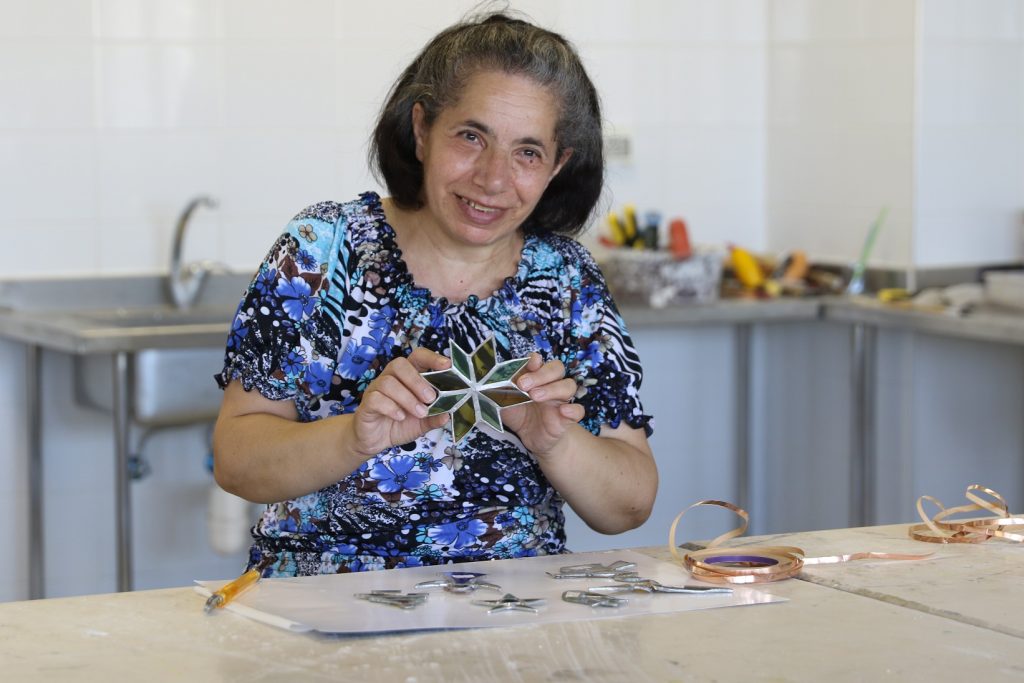 Helva Hanouneh
Helva Hanouneh is from Beit Sahour and lives in Beit Jala with her family. Her journey in handicrafts began in 1998 when she participated in an intensive course in glass art and silversmithing, organized by the International Center of Bethlehem – Dar Annadwa.
Currently, she works independently in her small home kitchen and dreams of establishing her studio. She previously tried to market her products at some tourist souvenir shops, but she suffered a huge loss due to the coronavirus crisis, which damaged the tourism sector completely.
Helva stated that the outbreak of the Second Intifada in 2000 had a major impact on the glass art craft, its prosperity and recycling. The Occupation's bombing of civilian houses in Bethlehem resulted in a lot of broken glass in the streets, which provided glass as a primary raw material free of charge for artisans to recycle and make artefacts.
Helva tries to design different products to please customers of all tastes, such as ornaments and kitchen utensils, such as food plates and coasters. However, she specializes in manufacturing glass artefacts and enjoys, in particular, recycling wine and spirit bottles to create candle holders and lanterns and other decorative objects.
Recently, Helva started developing new products by combining glass with modern materials like epoxy resin to meet customers' demand to sell locally. Among the most impressive products that Helva created are chandeliers made of glass of different shapes and sizes. These products are a strong point of Helva's work, as she can sell them all year-round away from the Christmas season and other religious events.
Hanouneh participated in numerous local bazaars and exhibitions in the Bethlehem area and some other cities. She always strives to develop her technical skills by participating in specialized courses in design and product development. She aspires to take part in a vocational training course in internal design and home décor specializing in glass as a primary material for home decoration, such as coloured glass used in outer gates and windows, especially in places of worship such as churches and mosques.
She seeks future cooperation with friends and colleagues to promote her work through social media platforms.
هيلفا حنونة
هيلفا حنونة من مدينة بيت ساحور، متزوجة وربّة أسرة تسكن في بيت جالا. بدأت رحلتها في مجال الحرف والأشغال اليدوية بمشاركتها في دورة مكثفة في صياغة وتشكيل الفضة والزجاج، نظّمتها دار الندوة الدولية في عام 1998.
تعمل بشكلٍ مستقل بأبسط الإمكانيات في مطبخ بيتها الصغير وتسعى إلى إنشاء مشغلها الخاص. حاولت تسويق منتجاتها في بعض محلات التحف السياحية ولكنها تعرّضت لخسارة كبيرة نتيجة أزمة الكورونا التي دمّرت القطاع السياحي.
كان لاندلاع الانتفاضة الثانية عام 2000، أثراً كبيراً في ازدهار حرفة تصنيع الزجاج وإعادة تدويره. نجم عن قصف الاحتلال لبيوت المدنيين في محافظة بيت لحم، الكثير من الزجاج المكسّر في الشوارع والذي ساهم في توفير الزجاج كمادة خام أساسية بشكلٍ مجاني ليقوم الحرفيين بإعادة تدويره وعمل القطع الفنية والتحف منه.
تحاول هيلفا تصميم منتجات مختلفة لترضي أكبر شريحة من الزبائن باختلاف أذواقهم، من تحف الزينة وأدوات المطبخ كصحون الطعام وقواعد الأواني الساخنة، ولكنها تختص في تصنيع التحف الزجاجية وتستمتع بشكل خاص في إعادة تدوير زجاجات النبيذ والمشروبات الروحية لتصنيع قواعد للشمع وتحف الزينة.
في الآونة الأخيرة، بدأت هيلفا بتطوير منتجات جديدة من خلال دمج الزجاج مع مواد عصرية مثل مادة الإيبوكسي ريزن، لتلبّي رغبات الزبائن وتتمكّن من البيع المحلّي. من أهم المنتجات التي تميّزت هيلفا في تنفيذها هي الثّريات المصنوعة من الزّجاج الملوّن بأشكال وأحجام مختلفة. تشكّل هذه المنتجات نقطة قوة لأعمال هيلفا اليدوية، حيث يمكنها بيع منتجاتها على مدار العام بعيداً عن موسم عيد الميلاد والمناسبات الدّينية الأخرى.
شاركت في الكثير من البازارات والمعارض المحلية على مستوى محافظة بيت لحم وبعض المدن الأخرى، تسعى هيلفا دائماً إلى تطوير قدراتها من خلال المشاركة في دورات متخصّصة في التصميم وتطوير المنتج، وتطمح للمشاركة في دورة تصميم داخلي مختص في الزجاج كمادة أساسية للديكور المنزلي، كالزّجاج الملوّن الذي يستخدم في البوابات الخارجية والشبابيك وخاصة تلك المستخدمة في دور العبادة من كنائس ومساجد.
تسعى للتّعاون مع بعض الزّملاء والأصدقاء للتّرويج لأعمالها عبر وسائل التّواصل الاجتماعي.