Rajaaa Barbarawi (رجاء بربراوي)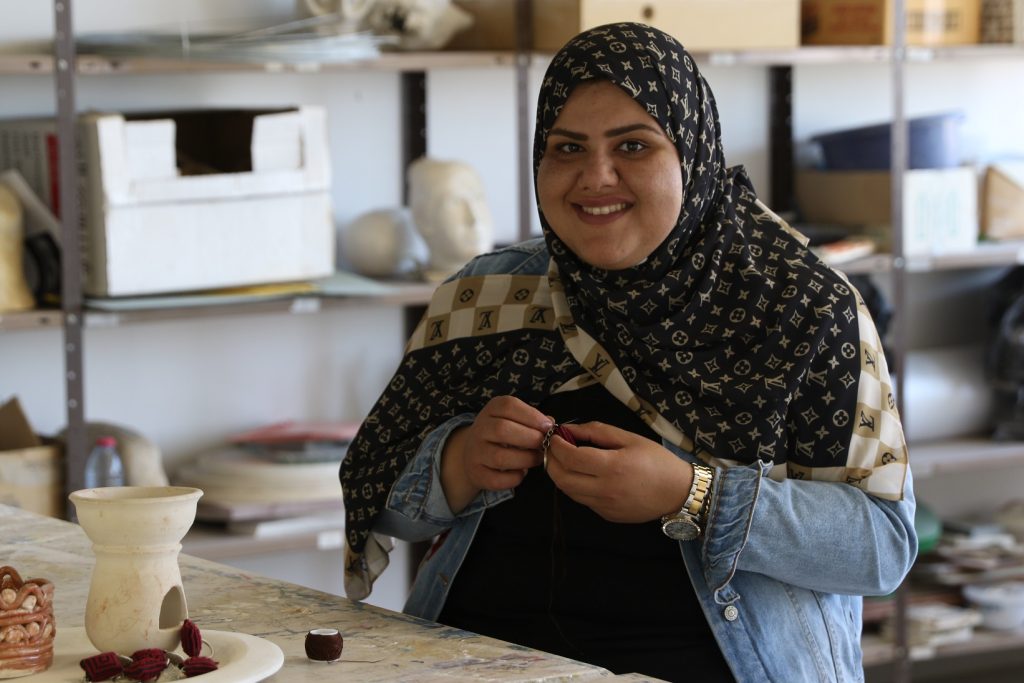 Rajaaa Barbarawi
Rajaa Barbarawi is a visual artist from Hebron. She carries a diploma in Art Education and a BA in Contemporary Fine Arts from Dar Al-Kalima University for Arts and Culture.
Since receiving her Bachelor's degree in 2018, she has been striving to apply for Art teaching jobs in public sector schools. Still, she has had no luck despite qualifying for advanced stages in the recruitment procedures so far. Barbarawi explains her interest in getting an art education job in government schools because such job opportunities provide financial stability and social security for artists. Moreover, having a convenient morning job allows her to work as an independent artist on her own time.
Barbarawi masters several handicrafts, including Ceramics, embroidery, making accessories and medals from manufactured materials such as beads and stones, photography, in addition to drawing Arabic calligraphy on some ready-made products.
Barbarawi participated in several national art competitions. She took third place in Karimeh Abboud Award for Photography, and she won Ismail Shammout Award for Fine Arts. She also participated with her short film at the "Seen" Festival for Video and Performance Art. Also, Rajaa participated in several local bazaars and one international exhibition in the United States.
Barbarawi believes that what distinguishes her work is honesty, simplicity, and proficiency in communicating her ideas. She believes that as a society living under occupation, Palestinians live under other levels of intellectual self-occupation. "The Occupation is a major source of inspiration for us as artists, but on a personal level, I draw inspiration from my father, who supported me significantly during my educational journey and passed away 20 days after attending my graduation ceremony". She explained.
Rajaa manages two Facebook pages with her mobile phone to market her work: "Rajaa Handicrafts" promotes some of the customized products she develops for commercial sale. On the other hand, you can follow her second initiative: "Fannak Fi Sahnak", which means "your art in your plate". On this page, Rajaa shares her personal journey in losing weight and getting in shape; she posts recipes for healthy meals and photos of her cooking. She promotes healthy lifestyle tips and tricks and the benefits of working out and healthy eating. She developed this page as part of a social initiative that received humble support within the grant of artist Samia Halabi.
In the future, Barbarawi dreams of establishing her art studio that will enable her to work as an independent artist.
رجاء بربراوي
رجاء بربراوي، فنانة تشكيلية من محافظة الخليل. حاصلة على دبلوم تربية فنية وبكالوريوس في الفنون التشكيلية المعاصرة من كلية دار الكلمة الجامعية للفنون والثقافة.
منذ تخرّجها من برنامج البكالوريوس عام 2018، وهي تسعى جاهدة للتقدم والحصول على وظيفة في مجال التربية الفنية في مدارس القطاع الحكومي، ولكن لم يحالفها الحظ حتّى الآن بالرّغم من تأهلها لمراحل متقدّمة في إجراءات التوظيف. تشير بربراوي أنّها مهتمّة في الحصول على وظيفة تربوية في القطاع الحكومي لما توفّره هذه الوظائف من استقرار مادي وضمان اجتماعي للفنان بوظيفة صباحية تنتهي بانتهاء دوام المدارس، مما يفسح لها المجال لممارسة عملها كفنانة تشكيلية مستقلة في وقتها الخاص.
"كمعلمة تربية فنية، أرى دوري في مشاركة تجربتي مع الطلاب، المساهمة في اكتشاف مواهبهم الفنية وتعزيز قدراتهم الفنية والابداعية لخلق جيل جديد يقدّر الفنون ويفكّر خارج الصندوق"
تتقن بربراوي صناعة عدة حرف فنية يدوية ومنها: الخزف "السيراميك"، التطريز، تجميع الإكسسوارات والميداليات من مواد مصنعة مثل الخرز والأحجار، التصوير الفوتوغرافي، بالإضافة للرسم بالخطوط العربية على بعض المنتجات الجاهزة.
شاركت بربراوي في عدة مسابقات فنية على مستوى الوطن ومنها: مسابقة كريمة عبود للتصوير والتي حازت بها على الجائزة الثالثة، جائزة إسماعيل شموط للفن التشكيلي، وشاركت بفيلم قصير في مهرجان سين لفن الفيديو والأداء. كما شاركت في عدة بازارات محلية ومعرض دولي في الولايات المتحدة.
ترى بربراوي أن ما يميّز أعمالها هو الصدق والبساطة والإتقان في توصيل أفكارها، وتؤكد "أننا كمجتمع فلسطيني يعيش تحت الاحتلال، نعيش مستويات أخرى من الاحتلال الذاتي الفكري". "بلا شك، يشكّل الاحتلال مصدر الهام أساسي لنا كفنانين ولكن على المستوى الشخصي، أستمدّ مصادر الهامي من والدي الذي دعمني كثيراً خلال مسيرتي التعليمية وتوفّي بعد حضوره حفلة تخريجي بعشرين يوماً".
بهاتفها النقّال، تقوم رجاء بإدارة صفحتين على موقع الفيسبوك للتسويق لأعمالها وهي صفحة: "رجاء للأشغال اليدوية" والتي تروّج لبعض المنتجات التي تقوم بتطويرها بهدف البيع التجاري حسب رغبات الزبائن وتوصياتهم". ومن جهة أخرى، يمكنكم متابعة صفحة "فنّك في صحنك" والتي تشاركنا فيها رجاء رحلتها الشخصية مع طرق ووصفات تحضير وجبات الاكل الصحي التي ساعدتها في إنقاص وزنها بشكل ملحوظ في الآونة الأخيرة، وفي هذه الصفحة تقوم بالترويج لفوائد الأكل الصحي ضمن مبادرة اجتماعية حصلت على دعم بسيط لتنفيذها ضمن منحة الفنانة التشكيلية سامية حلبي.
تحلم بربراوي في تأسيس ستوديو فني خاص بها، يمكنها من ممارسة عملها كفنانة تشكيلية مستقلة في المستقبل القريب.